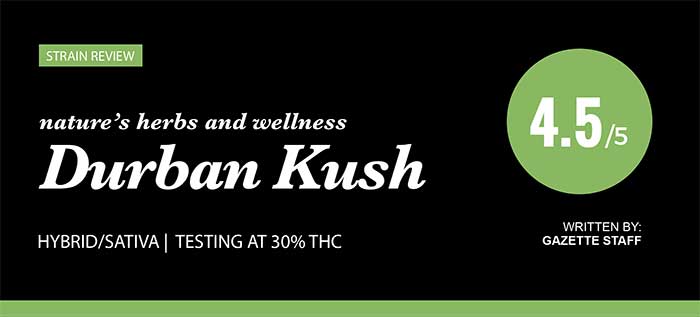 Nature's Herbs & Wellness
Strain Review
Durban Kush
Hybrid/Sativa Strain | Testing at 30% THC
Written By: Gazette Staff
As you could probably guess from its name, Durban Kush is the classic Durban Poison strain with a bit of Kush mixed right in. We found this hard hitting sativa hybrid at Nature's Herbs and Wellness in Garden City, right outside of Greeley, on their new Connoisseur Shelf. The shelf was filled with
premium options, and we were not disappointed with our decision to try the Durban Kush.
This batch of Durban Kush came in at 30% THC and the brightly colored nugs were sparkling with their full coating of trichome crystals. This strain perfectly blends the motivating sativa of Durban Poison with just the right amount of indica Kush added in. A nice bowl left us feeling productive and excited to tackle the day.
The hint of indica helped to cut any of that paranoia that may accompany the traditional strong sativa strains. Which would make this strain perfect for your 4/20 celebrations! What ever strain your smoking on this 4/20 remember to always stay safe and obey the laws while you're celebrating with The Ganja!