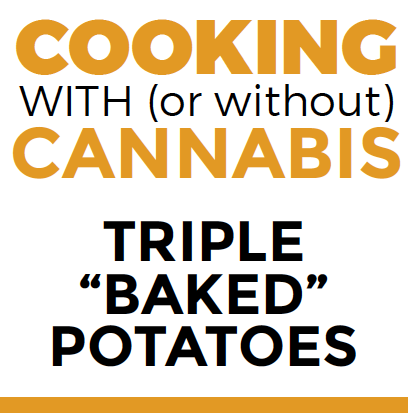 Triple "Baked" Potatoes
Ingredients:
6 Large Potatoes
1/3 cup Sour Cream
1/3 Cup CannaButter
Salt (to taste)
Pepper (to taste)
Toppings:
Bacon Bits
Scallions
Colby Jack Cheese
Preperation:
Preheat oven to 375 degrees.
Place potatoes on a baking sheet and bake until tender (about an hour).
Remove from oven and allow the potatoes to cool.
Cut each potato in half, lengthwise.
Scoop out the insides while making sure the skin holds its shape.
Mix the scooped potato flesh, sour cream, CannaButter, salt and pepper together. Mix until very smooth.
Stuff the potato mixture back into the potato skins and cover with cheese.
Bake in oven for 10 minutes or until tops begin to brown.
Add Toppings as desired.
YIELD: 4-6 servings.
To get that real crispy bacon that everyone strives for, try dicing all your bacon strips BEFORE frying them up in the skillet. This will allow the bacon to cook evenly in the bacon grease leaving you with consistently crisp bits to top off your skins.