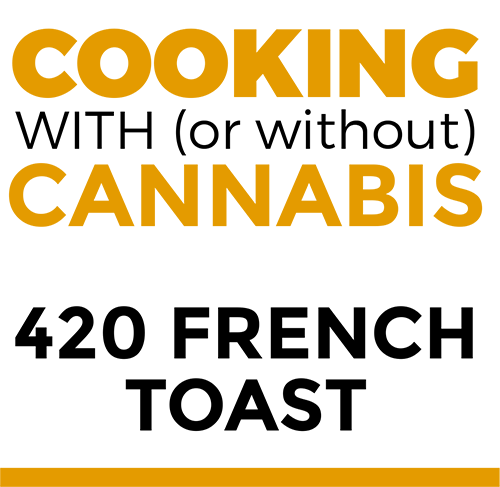 420 French Toast
Ingredients:
4 slices of white bread

2 tsp. cannabutter, melted

1/4 cup ricotta cheese

1/4 cup jam of your choice

2 large eggs, lightly beaten

1 tbsp. milk
3 tbsp. unsalted butter
confectioners sugar, for garnish (optional)
Preperations:
Brush two slices of the bread with melted cannabutter. Layer the slices with the ricotta cheese and then the jam. Top off each sandwich with a slice of bread.
In a wide, shallow bowl, beat the eggs and milk. Dip the sandwiches into the egg mixture.
In a large skillet, melt the butter over medium heat. When the butter starts to foam, add the sandwiches. Cook until golden brown, about 3 to 4 minutes, and then turn and cook on the other side until golden brown.
Place on serving plates, cut in half.