By: Ganja Gameboys

In an era where reboots are a mainstay to any stable and successful franchise, Gears of War is no exception and certainly no slouch. As one of the most successful exclusive series of all time for Microsoft's Xbox 360, Gears of War 4 is the 5th major title in the franchise but the first for Xbox One as long as we don't count the Gears of War re-mastered release that hit shelves last year on the 10th anniversary of the original game. The Coalition is the new studio behind the series and Gears of War 4 is just their 2nd release.
There certainly are some big shoes to fill. For those of familiar with the Gears of War story over the past 10 years, it's easy to see why Gears of War became one of the best-selling franchises for the Xbox 360 so there's a lot of hype to live up to. Breathtaking visuals, cinematic settings, and epic plot twists have become synonymous with the franchise. To make a long story short, it's safe to say that the new studio is on the right track. Gears of War 4 has it all. Thanks to some new monsters, a ruthless race of "DeeBee" COG robots, helicopters, and our favorite sub-terran dwelling enemies, the Swarm, we think it's safe to say that Gears of War 4 is easily the best installment in the series to date.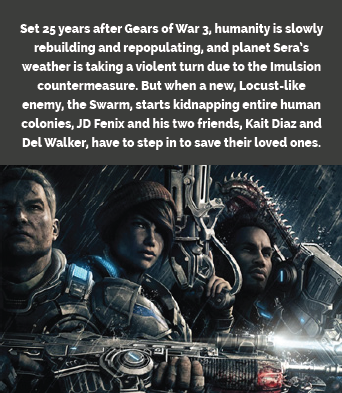 The series is well known for its revolutionary 3rd person shooter and an emphasis cover-based combat, in which players can use objects to avoid gunfire or safely engage enemies. It's a much more delicate approach to a shooter than the 1st person counterparts dominating the game industry today.
All four installments in Gears of War featured several multiplayer modes that allowed players to compete against each oth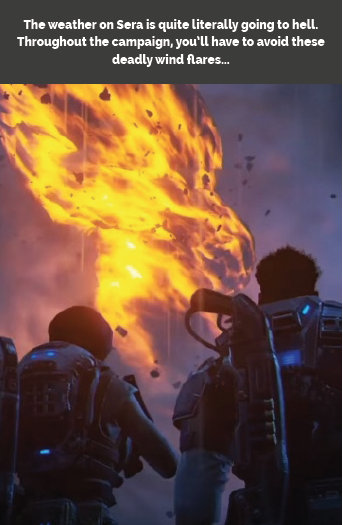 er or team-up to battle AI opponents on Xbox Live. Gears of War 4 once again takes that experience to the next level. The infamous "Horde" mode is better than ever with the further development and refining of siege equipment that was first introduced in Gears of War 3.
Gears of War 4 is a must play if you've been a fan of the series. Nostalgia and novelty aside it's a solid game.