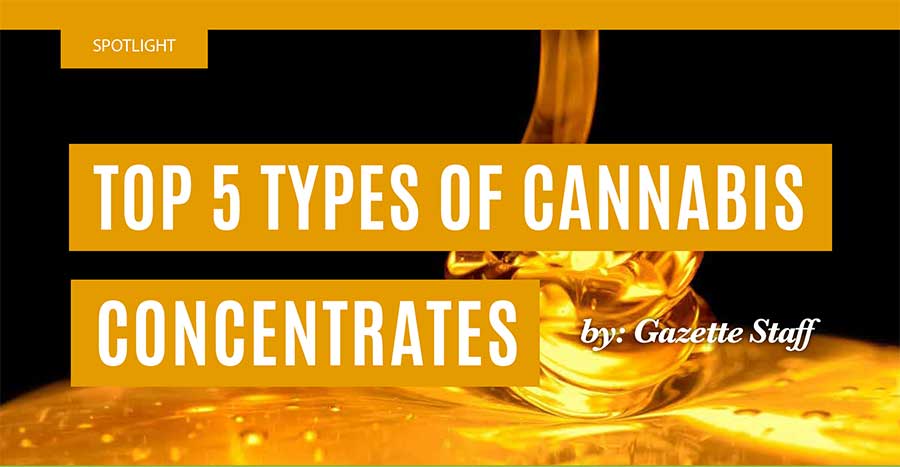 Top 5 Types Of Cannabis Concentrates
Written By: Gazette Staff
Popularity and demand for concentrates have increased dramatically with the legalization of marijuana in several states. This exponential growth in consumer interest has refined concentrate extraction methods to innovative heights, which is why so many new and exciting forms of concentrates are emerging. Concentrates are a great option for seasoned cannabis consumers looking to increase the intensity of their high, as well as flavor connoisseurs seeking to taste the most exquisite terpene profiles. Medical marijuana patients in need of relief also turn to concentrates for a direct, economical and fast-acting solution to their ailments.
1. Wax. Wax is a sticky form of cannabis concentrate. You will mostly find wax sold in silicone containers or small glass jars. Extracts with decarboxylated THC usually ends up sappier. This means wax can be a bit messy to handle without the proper dabbing tools.
2. Crumble. Crumble concentrate's form fits the name. The texture of crumble makes it an easy product to handle with your hands. We don't recommend storing crumble using parchment paper. Instead, use a silicone or glass jar to store crumble.
3. Rosin. Rosin is a special type of cannabis concentrate. Rosin in made without using any solvents. The process of creating rosin involves squeezing the dry cannabis buds using pressure and heat. It's a widely popular cannabis concentrate as it is the most natural extract available.
4. Budder. Budder concentrate is similar to wax as it's a form of BHO (butane hash oil). However, Budder has an opaque taffy like consistency. With its higher terpene profile, budder delivers a tasty smoke that most enthusiasts look for in cannabis.
5. Live Resin. Extracted using live plants, live resin contains higher terpene profiles than any other concentrates. All other cannabis concentrates use dry plants, live resin takes advantage of the living plants aromas and extracts it into an unusually flavorful and pungent extract. There is more work that goes into the production process of live resin, this means this product is usually reserved for consumers with more expensive taste buds.
Dabbing is the most popular way to consume marijuana concentrates. Often referred to as "taking a dab" dabbing simply is the vaporization and consumption of a marijuana concentrate. On average, the concentrate a consumer might dab has between 60-80% THC, compared to smoking cannabis flower which averages 10-25% THC. For this reason, dabbing is much more economical for most users, as far less product needs to be consumed to reach optimal or desired effects. The effects of a dab usually come on stronger and quicker than smoking flower. Because of this, dabbing is often recommended for experienced or frequent smokers due to the high potency of the product.