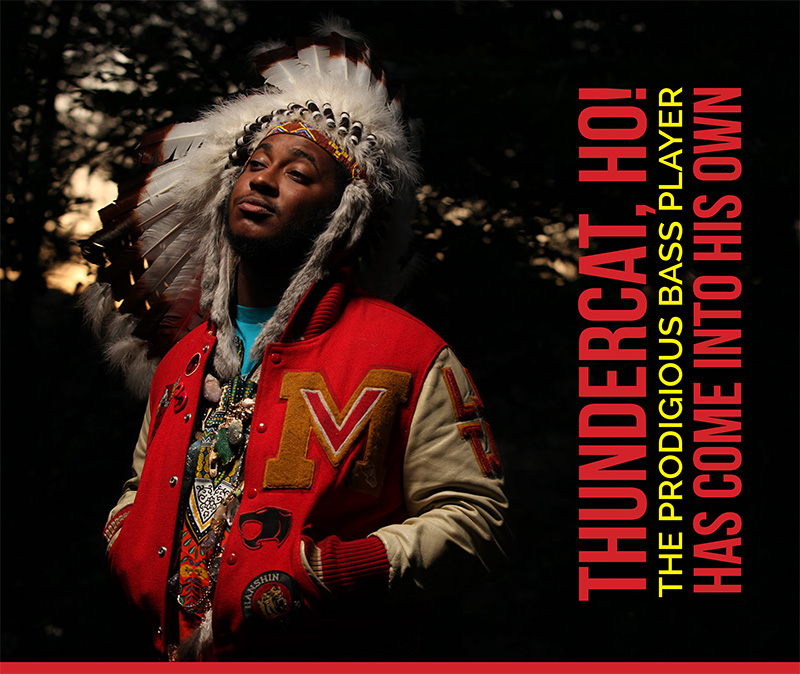 Thundercat, Ho!
The Prodigious Bass Player Has Come Into His Own
By: Kyle Eustice

"As long as I don't start murdering people or robbing banks in the name of Thundercat, I'm good," Stephen Bruner says regarding his fixation with the '80s action figures and cartoon series. "I kind of had a creepier fascination with it when I was younger. It scared my parents a bit. My mom had to be careful and pay attention because if she didn't, she would turn around and I would seriously be worshipping the toys. I'm sure eating the cat food, staring at the toys and not really playing with them would scare anybody though [laughs]."
It comes as no surprise Bruner adopted the Thundercat moniker as his musical alias in 2011. A music career was inevitable. Growing up in Los Angeles, he lived in a household that was always immersed in music. His father, Ronald Bruner, Sr., played drums with Diana Ross, Gladys Knight, and The Temptations. His Grammy Award-winning older brother was a member of punk/metal group Suicidal Tendencies, but was also heavily involved in jazz. His mother was a flutist, his younger brother, a pianist, and even his grandma got down on the organ. In high school, Bruner joined his brother in Suicidal Tendencies, a move that launched him all over the world. Consequently, he brushed shoulders with the musical elite, but that was something he was already accustomed to as part of the Bruner family. He began touring with Erykah Badu, Snoop Dogg, and producer Flying Lotus. In fact, he recently wrapped up a month on the road with "FlyLo" and drummer Thomas Pridgen (formerly of Mars Volta).
"I was definitely already a fan of people I've worked with," he says. "It did seem kind of natural not to trip out and realize this is a job to me that I wanted to spend my life doing," he says. "So because of that, I wouldn't allow myself to get too attached.
The young prodigy commands a bass in a way that's almost surreal. It's hard to believe he's not an alien channeling musical superpowers from outer space. It was only a matter of time before he stepped out from the background and spearheaded a proper solo career.
"Me as Thundercat was more like a calling for me as opposed to me seeking it out," Bruner says. "I was always the guy in Suicidal Tendencies wearing Thundercat shirts. I never wanted to wear the Suicidal gear. I mean, I had the flipped up hat and bandana, but I was always wearing a Thundercat shirt. I don't really look at it as separate, you know, even when it comes to the playing. I would wear different hats as a musician, but I didn't really separate it though. I would play just as crazy and fast at a Suicidal gig [laughs], trying to find space for everything and bring the jazz into Suicidal."
Bruner's first album as Thundercat, 2011's The Golden Age of the Apocalypse (Brainfeeder), was an unexpected melting pot of experimental jazz and everything in between; soul, funk, pop and electronic soundscapes found its way into the densely layered concoction, which brilliantly showcased Bruner's penchant for songwriting and singing. The FlyLo-produced effort was well received and gave Bruner the fire to keep going down the solo path. Bruner is poised to release his next record as Thundercat this summer, which is aptly titled The Apocalypse. He assures the album is "the best part two ever," perhaps due in part to Badu's involvement. Bruner's working relationship with Badu has evolved into a friendship over the years.
"I met her when I was 18 or 19. She was looking for music for New Amerykah: Part 1," he recalls. "She had been working with Madlib and J Dilla and they were playing her a bunch of tracks. I was sitting in another room playing X-Box because that's what I do. She heard this one song and was like, 'Who is playing bass on this song?' And someone said, 'Oh that's Thundercat' and she walked in and introduced herself. I almost peed myself. I literally joined her band immediately."
It's clear Bruner's sense of humor helps him to bridge the gap between the other musicians he works with. He's adamant about Badu being "the funniest person" he's ever met. Bruner's relationship with FlyLo is similar in nature. They are more like best friends. It just so happens that all of his friends are immensely talented. He credits FlyLo for urging him to tackle his first album. While many people may think it's a stretch to go from a band like Suicidal Tendencies to making, more or less, a jazz record, Bruner didn't see it that way.
"Honestly, I guess it's one of those things that was a natural progression to some degree. It didn't feel too outlandish to me," he says. "The funny thing is the one who suggested I do the album was Lotus. The second album is kind of a thing where I'm just in it right now, you know? I'm really excited. I try not to think about it too much because the music industry we are growing up with nowadays is completely different so I don't know what to expect. I'm just happy I'm getting a chance to work, move forward and do things."