Released right at the tail end of August, Beauty Behind the Madness is one of our more recent reviews. With summer ending and the fall starting sometime eventually, this album is providing me beats more reminiscent of summer music. Dropped by artist The Weeknd, this album offers access to a mainstream R&B, hip hop style that is reminiscent of some of the work of Drake and other such singers. More singing, not much rapping. Tons of electronic beats mixed with smooth voices. Even if you do not recognize the name of the artist, you have probably heard one of his songs out at bars or on the radio. With "Can't Feel My Face" taking over the radio, this album is guaranteed to top the charts for the fall, and, depending on his capabilities to continue producing hits, The Weeknd is likely to be someone who will infiltrate popular music for some time to come.
Many times I tend to shy away from the most popular music; I can't tell you the last time I actually played the radio instead of just directly plugging my phone into an auxiliary cable and playing music I enjoy, but I still had a good time listening to this album. Something tells me that for anyone who frequently listens to their radio, this artist might eventually become overplayed. He is the type of guy who takes over the charts and stays there for a few weeks or months. The good thing about this album is that it offers quite a bit of variety and it is easy for listeners to enjoy. Sometimes, people can be polarized on music, and with good reason. For The Weeknd's first full feature length debut, the offering strings across a variety of places. It moves from slower songs with a more rhythmic guitar to upbeat songs that offer the perfect hit for the radio.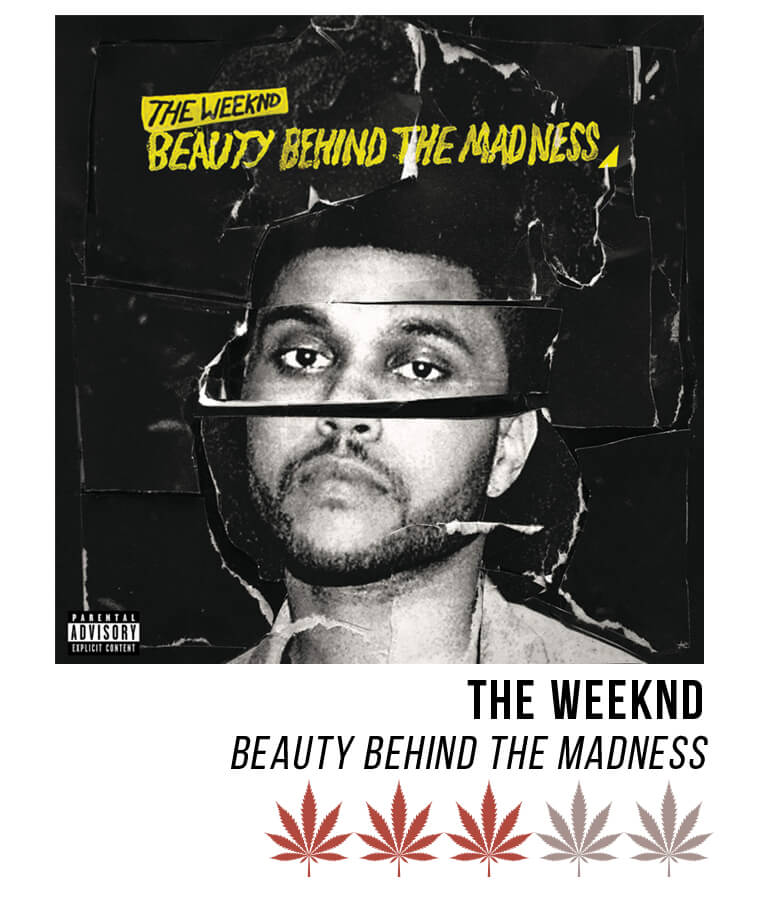 The question then becomes, what to do with the new album from The Weeknd? How do you enjoy it while smoking? Well, the recommendation I would make is to focus on having a good time. This music can be used in a variety of scenarios, and it is the perfect music for a party. On the other hand, if you are looking to go out for a night on the town, wanting to meet up and mingle with people, or hoping to host a smoke session at your house, the beauty of the CD is you can put it on as a background piece or as the main event. There are no real constraints on how the album might listen for different users.
Here is the other piece, one I am sure many will find in the coming months. This guy is a big name, and it is obvious that the music industry is going to push him to be an even bigger name. He is going to be everywhere before long. I am confident that given time, he will be playing a show at Red Rocks, or elsewhere in Colorado, and all I can say about that is that it would be a great show to see high.
While this music doesn't necessarily take much mental effort and it is not going to change your life, it's just good fun. It's easy to press play, sit on repeat and not even realize the album has recycled through its circles of play. You won't necessarily remember the beauty of any one track, but you can just replay it, again and again and again. By the time you are done, you'll have enjoyed your listen. You'll find something enjoyable and relaxing.
That is it.
So, put on The Weeknd, take a listen, pass around a bowl or two, get high with friends, enjoy the conversations with Beauty Behind the Madness in the background. You'll enjoy it. You're never going to miss much about it, but you'll enjoy it. That much I can promise.
Beauty Behind the Madness is a good album. It is well produced. It flows well. It has big name artist and will have big name hits. It is not the best thing I have ever listened to nor the most unique, but it is good, and it will do what you want.