Natures's Kitchen Concentrates
Strain Review
By: Gazette Staff
Natures's Hybrid Wax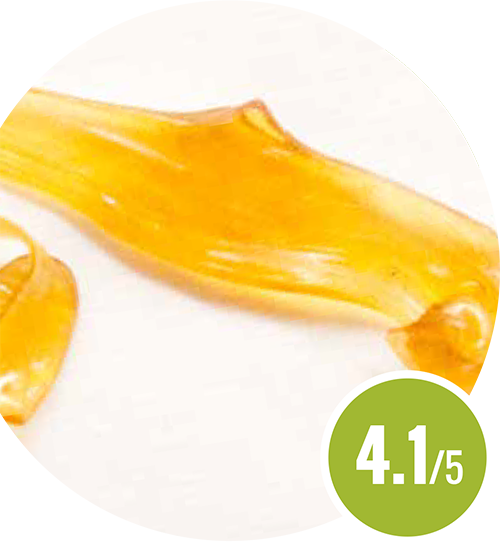 Nature's Kitchen Hybrid Wax is extracted using a propane/butane blend giving it a golden "pull-n-snap" consistency. This is a perfect concentrate for someone that is just getting into dabbing. Pull-n-snap wax is the cleanest, easiest to dose, and easiest to stow. It has a strong citrusy flavor profile that finishes with a sweet candy aftertaste that lingers throughout your sinuses which is quite delightful. This particular batch tests at 74% THC delivering a substantial head high that is fully developed within two or so minutes. You can feel the effects of this rich extract before you even know it. That's why it's important to dose low on such high concentrated extracts because you don't want to rush yourself into an intense head high that you were not prepared for. Overall this extract tastes very bright and clean and is a great example of quality BHO. I recommend taking this at a low temperature for a smoother hit to ensure that you receive the full flavor of the terpenes.
Natures's CO2 Concentrate
Nature's CO2 Concentration takes the alternate "high" road with a whopping 65% CBD and only 7% THC content. This means you will receive a deep relaxing body high rather than the staunch head high from the Hybrid Wax. This concentrate has been extracted using CO2 which gives it an oily and more liquid consistency that must be held in some kind of jar or container. It's harder to dose given its consistency however that is less to worry about in this situation. The high builds more gradually over time and you will notice your muscles and joints starting to relax over a period of 10 to 15 minutes. It's aroma and flavor is stronger and even sweeter than the Wax which provides a deliciously smooth hit when smoked. This tastes so good, in fact I kept smoking it purely for the enjoyment of the flavor. I recommend this for anyone with joint or muscle ailments or the casual smoker just looking to enhance their relaxing day off.