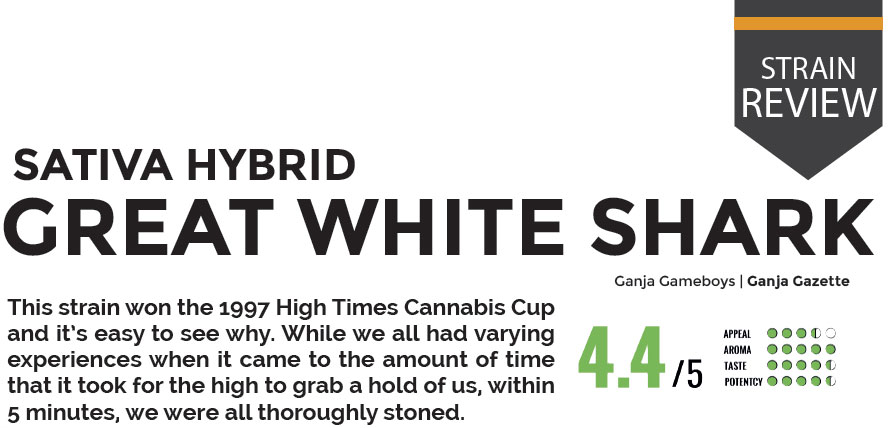 Right off the bat, Great White Shark hits you with its pleasant earthy aroma and distinct citrus notes that give off a sweeter smell that is a bit more pungent than you may be used too in other strains. The buds themselves are a light to medium green, encompassed in "great white" trichomes, and completely entangled in deep rusty orange hairs. These particular buds we got were impressively dense and consistently caked in crystals.
For a sativa, Great White Shark is one of the more laid back and indica-like strains on the market. It's considered a more potent strain that is most notable for its ability to provide a swift and robust body high while simultaneously giving off a racing head high that is more indusive to a traditional sativa. It's often recommended medically to treat chronic pain ailments. Some of us were reminded of the first time we ever got high; overcome with a disorienting yet euphoric sense of wonder while not wanting to leave the couch.
The sativa qualities of this strain keep this heavy hitter from being a complete knockout, but we wouldn't recommended it for days when a lot of work needs to get done.
GREAT WHITE SHARK
SATIVA STRAIN (NATURE'S HERBS AND WELLNESS)
Super Skunk x Brazilian & South Indian strains
THC: 28%