Unless you've been living under a rock recently, you've probably heard the first single from Sixx:A.M.'s new album playing nonstop on the radio over the last few months. While Rise isn't my favorite song that I've heard recently, it was the first song from the band that I really connected to them. Looking back at their discography, I also recognize Stars from Modern Vintage, Life Is Beautiful from The Heroin Diaries Soundtrack, and Lies of the Beautiful People from This is Gonna Hurt, but, to me, they were always just songs that came on the radio occasionally. I never really knew anything about the band behind them.
It seems to me that, unless I was the one hiding under a rock this whole time, Nikki Sixx's side project has received surprisingly little attention for the nearly 10 years it's been around. True, their hits off each album have all done well, reaching to the top of the rock charts, but other than one song off each album, there's been absolutely no discussion or airplay for the rest.
Until now, that is. With Mötley Crüe's Farewell Tour finally over and DJ Ashba's departure from Guns N' Roses last year, the entire band can now focus their efforts solely on Sixx:A.M. without any other creative distractions and iHeartMedia seems to think it's finally time to push the band. I really only listen to the radio in my car, but even still, it seems I can't go a single day without hearing at least one, and usually two or three, promotions for the band; far more than anyone else at the moment.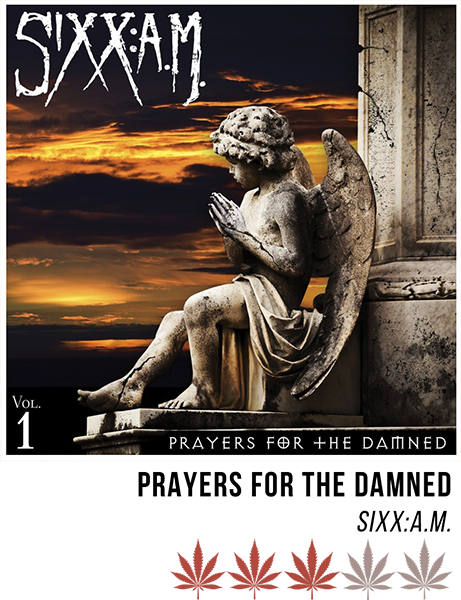 So how good is the album really? It's alright. Sorry for the letdown; maybe it was overhyped or maybe it's just not my style, but Prayers for the Damned doesn't quite do it for me. It feels like it's missing the raw emotion that The Heroin Diaries Soundtrack had. This doesn't come as a surprise as the first album was literally a soundtrack to Sixx's memoir The Heroin Diaries detailing a year-long drug binge at the height of Mötley Crüe's fame, full of the highest highs and the lowest lows. It's still disappointing though that the album can't keep up with their first one, especially considering that each of the band members is now supposedly giving the project their full attention.
But that's exactly the problem, I think. Sixx:A.M. is now the primary band for each of them. When it was just a side project, they could afford to be more experimental, less polished. Now that there's no Mötley Crüe or Guns N' Roses to fall back on, the band has to be more mainstream and careful. Let's be clear about one thing here, Rise was made for the radio and nothing else. It's been on heavy rotation since the day it was released and it's been pretty successful, reaching number six on the mainstream rock chart. On the other hand, Life Is Beautiful and Lies of the Beautiful People reached number two and number one, respectively, because they were legitimately good songs. Nothing off Prayers for the Damned really measures up to them.
I know this all sounds harsh. I really don't hate the album, in fact I like I'm Sick, Can't Stop, and even When We Were Gods a lot and I'd have preferred any of them to be the main single from the album over Rise, but they don't have the same level of radio-friendly catchiness. There are still plenty of songs off the album that most people probably haven't heard yet including a few that shine through the rest of the mediocrity and help redeem the album. I really hope they start getting airtime soon to replace Rise because, for me at least, it drags the rest of the album down and I'll probably lose it if I have to hear that song one more time. The best I can do for this album is three stars, but I won't give up on the band quite yet. I know that they're capable of doing much better than this and there's going to be a follow-up album, Prayers for the Damned, Vol. 2, releasing later this year which I'll be holding out hope for.