It's been a long wait since the Deftones first promised to release their new album in September of last year, but on April 8, Gore finally hit the shelves to great acclaim. The album is a good reminder of what experimental rock can and should be. The rock scene in our state has lately been taking an extreme path towards a more loud, distorted, hardcore sound, Gore takes a different approach. You'll still hear some screams from Moreno, but it quickly fades back into his somehow soft, almost soothing vocal style. Overall, the album feels a lot like their earlier work, taking me back to the sound that was popular in rock around the turn of the century, yet still adding in hints of a more modern style which Denverites and Coloradans should be able to relate to our own music community. From start to finish, it's one big nostalgia trip to one of my favorite musical styles, but in a fresh, new package.
A common theme I feel throughout the album is a great crescendo which builds up throughout songs, beginning with a nearly ambient sound and coming to its peak with crashing cymbals and scratchy, anguished screams. Long story short though, if you like anything you've heard by the Deftones, odds are you'll love this album. It's instantly recognizable as their work, but still different enough that you can feel their progression since forming in the 80s. The more I listen the more intricacies I notice in everything from the guitar in Xenon to the drum line in Gore's title track to the vocals in Prayers / Triangles.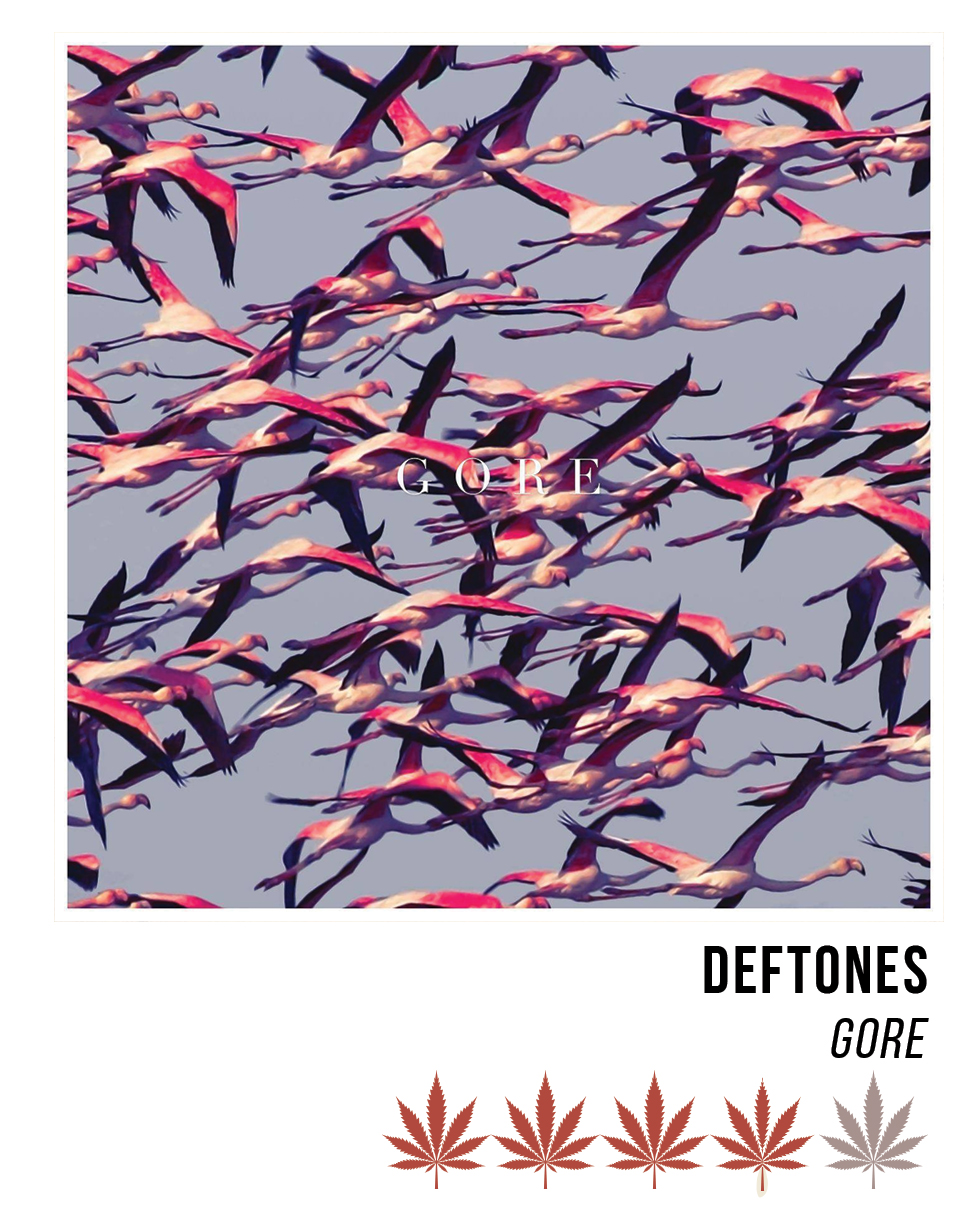 The Deftones got a little bit of press earlier this year when Moreno shook up some people's conceptions of rockstars. In an interview with BBC, he explained how the life isn't all glamorous and not every musician has an endless supply of money flowing in. Just to pay his bills, he stated, the band needs to be on tour for at least a third of the year. That's all time spent away from home, away from his wife, and away from his daughter and two sons. Nevertheless, he says, he wasn't complaining, in fact, he loves making and playing music. As you listen to Gore, you can tell that the entire band is still passionate as ever about their work and they've yet to stop touring regularly.
Staying true to their past releases, the entire album is riddled with cryptic messages from the song titles to the lyrics. Gore is an album you'll need to listen to a handful of times and maybe even do some research if you want to discover what's truly going on behind the scenes. On the other hand, it's also easy to listen to and just let it all wash over you. It really is an album you can listen to in all different mindsets, whether you want to relax, shut your eyes, and just listen, or if you're feeling more inquisitive and want to solve all of its mysteries, or even if you want to get pumped up as the music reaches its peak.
It's been a while since I've really paid attention to the Deftones, but this album is the perfect reminder of why they're still going strong after all these years and it's renewed my interest in the band. If you've never really listened to them, there's really no bad place to start; I don't think that they've ever had a bad album in the eyes of critics or the public, but Gore is going to have a slightly more modern sound and may make it a little easier to go back in time and enjoy their hits that made them into the band that they are now.
I really like the album. It's a breath of fresh air in what seems to be a lull happening in the rock community right now. Very little new rock has come out lately and what has been coming out hasn't always been the best. This is especially true if you listen to the radio where they seem to be pushing the same, unoriginal sound on everything from alternative rock stations to hardcore metal stations. But that's a rant for a different day. I give Gore 4.5 stars and I hope to see it get more airtime soon.