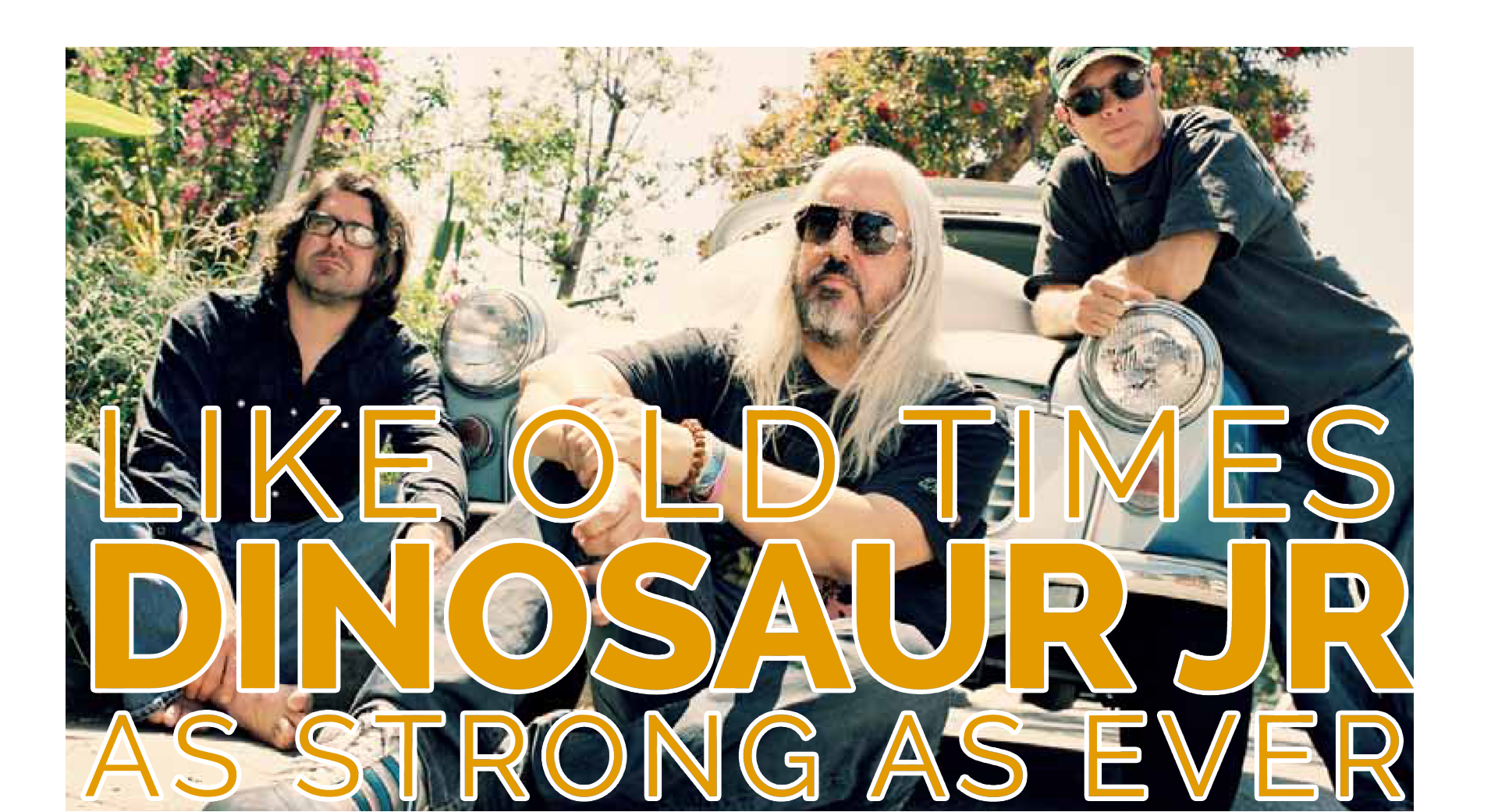 By:Kyle Eustice
Like Old Times, Dinosaur Jr, As Strong As Ever
J Mascis has always been the face of Dinosaur Jr. With his long, grey hair, oversized glasses and inimitable voice, he's easily the most recognizable, but backing him along the way is bassist Lou Barlow and drummer Murph. Famously averse to interviews, getting Mascis to open up is akin to pulling teeth, but luckily Murph makes up for what the Dino front man lacks in conversational skills. The 51-year-old D.C. native is pulled over in a Starbucks parking lot somewhere en route from New York City to his home in Massachusetts when he picks up the phone.
"I just got some coffee," he says. "I love coffee. I'm a coffee fiend."
Dinosaur Jr. has just wrapped up a tour in Japan and Murph is practically salivating at the thought of unwinding for awhile. Coffee is presumably the fuel that's going to get him through the final leg of the trip. While touring is an exhausting endeavor, when he speaks, there's an overwhelming sense of gratitude in his voice. After all, this wasn't supposed to happen.
Dinosaur Jr. had broken up in the late '90s after an incredible seven album run. Barlow turned his focus to his other band Sebadoh, while Mascis was doing the solo thing, but much like a moth to a flame, the allure of getting back together again was clearly too strong to deny. So it happened. Dinosaur Jr. reunited in 2005 and since then has put out four more studio albums, culminating with 2016's Give A Glimpse Of What Yer Not as if they never missed a beat.
"We're very chemistry specific," he says. "The fact we are three different personalities that ended up growing up in an interesting college town has a lot of barring on the dynamics of the music and you have to know that history to know where we're coming from. We're not the normal, typical band."
And he's right. Formed in 1982 in the small college town of Amherst, Massachusetts, Dinosaur Jr. (simply
known as Dinosaur then) took three distinct musicians who managed to find some middle ground, resulting in a captivating sound all their own. After all, Mascis didn't write like most people.
"J is more of a composer," he explains. "When he writes music, he hears all the parts and has a streamlined creative vision that comes out of left field. He just works like a madman and starts recording demos, and literally passes them off to me and Lou right away. That's kind of unusual. I think people jam together and have this organic process, which I've done with other people, but with Dino Jr., it's a tried and true formula that we've stuck to all these years."
On songs like "Mirror" and "I Walk For Miles" off the new record, they magically transport the listener back to 1991's Green Mind or 1993's Where You Been, but it's not in a way that feels stale. It's more like they've perfected the sound they've always sought after. Mascis, who is often heralded as one of the best guitarists in the world, keeps improving.
"J is refining his technique and he just gets better with age," he says. "He's a guy who continually works on his craft. We're getting better at our instruments individually, so it all goes into making a better record. J has a really good vision. He doesn't do something unless he feels like it's going to be decent. If he had a batch of songs that weren't that good, he just wouldn't do the record. He doesn't just do it to do it. That's just the way he is."
There are a couple of surprises on the 11-track offering. Barlow takes control of the vocal duties on "Love Is" and "Left/Right," which isn't necessarily a bad thing, but those who are not fans of Sebadoh might prefer Mascis get back on the microphone. When asked if it might throw some people off, his answer was simple.
"No, because Jay kind of conforms to the Dino formula," he says. "He jumps into the Dino headspace and writes accordingly. If he does write something that's super Sebadoh, J and I will just be like, 'I don't know. That's too Sebadoh. It wouldn't work.' We respect Lou for what he does, but we aren't uber Sebadoh guys. It's two different camps."
Overall, the record is solid and a brilliant reminder of why we fell in love with Dinosaur Jr. in the first place.
"The fact we are three different personalities that ended up growing up in an interesting college town has a lot of barring on the dynamics of the music and you have to know that history to know where we're coming from. We're not the normal, typical band."
"There are so many good songs," he says. "'Going Down,' I really like.
'Tiny' I like better than I thought I would. When I first heard it, I was like, 'Eh,' but now it's starting to grow on me live. Some of the later tracks, the fourth track ['I Told Everyone'], is really good, and it starts out kind of bluesy. As we start touring, that will change more. There are tracks I like because it's an album, but for a different reason, I like some to play live. 'Tiny' reminds me of monkeys or banana splits. It's fun and has a bouncy groove to it."
As he gets closer to home, he starts reflecting on his time in Western Massachusetts. All three of them have moved back to where it all began. They love it and then they don't.
"We feel conflicted about Western Mass," he says. "We're all back in the North Hampton area. It's such a weird college town. There are five universities there, but it's small at the same time. There are farms, and lots of fields and cows. It's like country living."
Without the distractions of a major city like Los Angeles or New York City, it's presumably easier to focus on creating music. As a matter of fact, Mascis never even left.
"J has always been there, but now he has a studio in his house," he explains. "He lives right in town. Lou was in Los Angeles for 17 years and his family was back East. He was just missing his family. I moved back because of the band, really. It was just easier. I was in Los Angeles, but when the reunion started in 2005, I had actually still been living in Maine, but I moved back because of the band."
With the nucleus of the group back in one spot, they routinely get together to work on music. Countless fans have expressed their excitement for the reconciliation of one of the '90s most beloved altrock acts, but Murph was curiously unaware of just how much they were missed.
"We're just so cerebral," he says. "We don't think about it. When people talk about our influences on younger bands, we don't think of that. Music to us is art. It's like a piece of artwork. You get it out in the moment and just do it. You put it out there and hope people like it. That's how we've always approached our music. The reunion was just supposed to be rereleasing the first three records and we weren't really going to tour, but there was so much interested, we decided to do that. We didn't think we'd put out more records. We thought we were just going to tour in support of those three records."
The reception has been overwhelmingly positive and it's almost like we're seeing a Part II of the Dinosaur Jr. story. Younger fans are discovering their music and digging into their extensive discography,
something Murph never really saw coming.
"It's like a second, third time around," he says with a tinge of awe. "It's like a history repeats itself kind of thing. I've been super surprised, very humbled and grateful to get this chance and opportunity."