February 2019
THIS MONTH IN THE GANJA GAZETTE
With Valentine's Day fast-approaching and more states with legal cannabis than ever before, many are wondering if the trending botanical can spice up their plans for the most romantic night of the year. Could marijuana be the natural love enhancer that you've been looking for?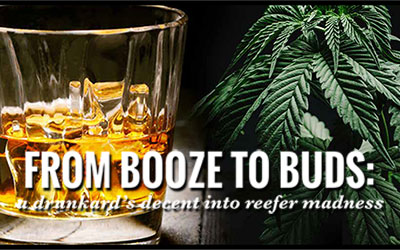 Hello, friends. I'm new here, so I'll introduce myself. My name is Kyle Pogue. If a man is to be defined by his passionate pursuits, then I am a stand up comedian, writer and most certainly, a drunkard. A drunkard, not a drunk. A drunk is a low and mean animal, choked by the stranglehold that alcohol keeps tight on his throat. A drunk is a broken, spineless creature whose yellowed eyes peer only towards the bottom of the glass and whose heart is kept meek by cowardice. A drunkard, on the other hand, is person who soars to great heights of the soul and lives a life of revelry and adventure, fueled by the juice of the barley and an insatiable lust for life.
read more
WANT TO ADVERTISE IN THE GAZETTE?
We would love to feature your company or shop in the Gazette. If you are interested in learning more about how you can place your company in our magazine and online space, click the button below to reach out. We look forward to chatting with you.