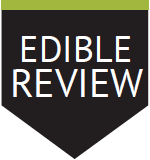 Edibles are a great alternative to get high if you're ever going into a situation where it's not going to be ok to smoke. Coda Signature has concocted some delicious ways to deliver that THC into your system. So delicious in fact, you'll have to watch yourself from getting carried away.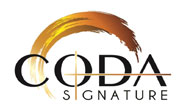 Coda Signatures
Crescendo Truffles

The Crescendo Truffles from Coda are probably some of the most attractive edibles available on the market today. It's almost a shame to crack through its glossy marble shell. This particular pack came with six truffles varying between 3 different flavors at 10mg each.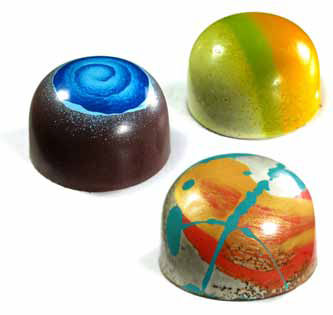 Burnt Caramel – This flavor is encased in the most colorful looking shell, but features the least colorful taste. It has a more matured and toasty flavor. Almost reminiscent of a Werther's Original.
Earl Grey – This truffle has the blue swirl atop of it and provides probably the most mild and smooth flavor out of the three. We felt this flavor works best as a truffle and would probably pair well with a cup of earl grey tea.
Juniper & Lime – This one looks and tastes exactly how it sounds. Bright and flavorful with the sweet finish of a key lime pie. It masks the 'marijuana' flavor best out of the three and probably takes first in the taste test as well.
60mg (10mg per truffle)
Coffee & Doughnuts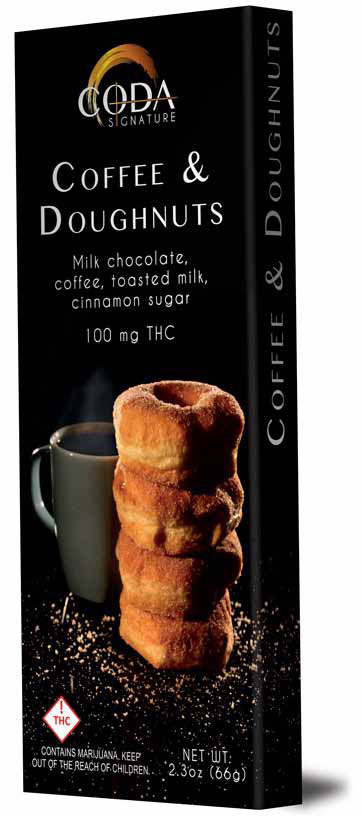 The Coffee & Doughnuts chocolate bar is one of the most delicious edibles that you can treat yourself to today. The bar is made up of rich milk chocolate with the robust undertones of coffee. The bottom is coated with sprinkles of cinnamon sugar that really ties the idea of "coffee and doughnuts" together. And let's not forget the THC. This baby is packed with 100mg divided amongst 10 chocolate squares. That's 10mg per square. Perfect for pacing your consumpton especially for a first time user. The chocolate is silky and rich and really helps disguise the taste of weed. We took about 40mg to get us to an appropriate high of our liking. There was quite a mental influence from the chocolate but we noticed more of a body high that took efffect about 45 minutes to an hour after ingesting. We give this delight a high reccomendation!
100mg (10mg per square)