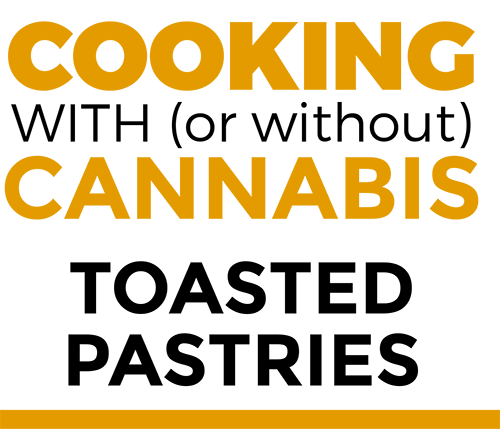 Toasted Pastries

Ingredients:
2 puff pastries

2 cups fresh strawberries

1/3 cup sugar

1/4 tsp. vanilla extract

1 tsp. lemon juice

4 tbsp. butter
1 tsp. cannabutter
white chocolate (for drizzle)
Preperations:
Preheat oven to 400 degrees. Line a baking sheet with parchment paper or silicone liners.
Place 1 sheet of puff pastry on a lightly floured surface and cut into 6 equal rectangles. In a small bowl whisk together jam with cornstarch then spoon 1 1/2 Tbsp jam over top of 3 of the rectangles, leaving about 1/2-inch rim around all edges uncoated. In a small bowl whisk together egg with 1 Tbsp water. Lightly brush rim (section around edges not covered with jam) with egg mixture (I just used my fingertip to brush because only a small amount is needed).
Layer remaining puff pastry rectangles over jam coated puff pastry and press edges to seal, transfer to refrigerator while preparing second batch and repeat process with remaining sheet of puff pastry.
Brush tops of each strudel lightly with egg wash. Bake until golden brown, about 20 minutes. Let cool on a wire rack until warm then drizzle icing over top.