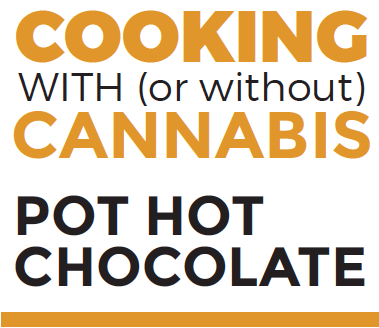 Pot Hot Chocolate
Ingredients:
2 cups of Milk
1 tsp of Butter
3 tbs of Chocolate Syrup
1-2 grams of Cannabis
Coffee Filter
Cool Whip (optional)
Marshmallows (optional)
Preperation:
Finely grind up your weed.
Mix the milk, marijuana and butter in a small pot and set it to medium-high heat. Keep everything at a minimal boil. You want your hot chocolate to be hot, but boiling the milk will cause it to scorch. Plus, boiling isn't good for the THC extraction.
Let boil for 10-15 minutes.
Pour contents into mug through the coffee filter allowing it to sift out the weed particles.
Stir in Chocolate Syrup to your liking and top with whip cream or marshmallows and enjoy!
YIELD: 1-2 SERVINGS.
REMEMBER: THC is not water soluble. The only way to extract the THC into the Hot Cocoa is to allow it to bind to the fats in the butter and milk which will retain the psycho-active ingredient. Without those two you won't have an effective beverage.