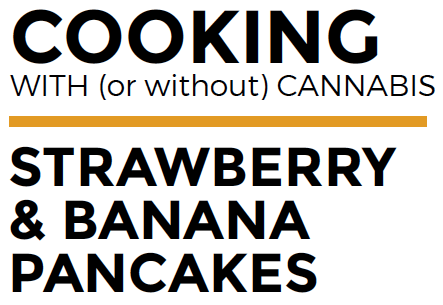 INGREDIENTS
3 1/3 tablespoons melted CannaButter
1 1/2 cups flour
5 tablespoons sugar
1 1/2 teaspoons baking powder
1/2 teaspoon salt
1 1/2 cups milk
1/2 teaspoon vanilla
2 large eggs
1 pint of strawberries
3 ripe mashed bananas
PREPARATION
Prepare your strawberries by removing the stems, slicing, and lightly mashing them with 2 tablespoons of sugar. Set aside for an hour. Meanwhile, in a large bowl, make a dry mix by combining the flour, remaining
3 tbsp of sugar, salt and baking powder.
In another bowl, make a wet mix by mixing the melted marijuana butter or regular butter with the milk, mashed bananas, eggs and vanilla, then combine the wet and dry mixes. This makes a batter that is slightly lumpy batter, ensuring fluffiness.
Heat a bit of oil in your pancake griddle or frying pan and pour desired amount of batter onto the frying pan. Cook each pancake until the top batter has bubbled and firmed up a bit. Then flip the pancake and cook until the other side is golden brown. Finally, serve your pancakes with butter, prepared strawberries, and syrup if you choose. Enjoy.
YIELD: Makes 7 to 9 pancakes.