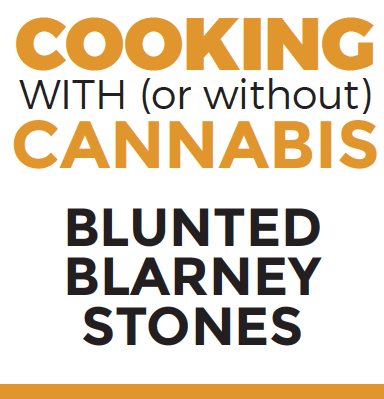 Blunted Blarney Stones
Ingredients:
Cake:
4 eggs (seperated)
1 cup granulated sugar
1 cup flour
1 1/2 tsp baking powder
1/4 tsp salt
1/4 cup boiling water
1/2 teaspoon vanilla
Frosting:
1 cup cannabutter
2 to 2 1/2 cups confectioner's sugar
1 tsp vanilla
crushed salted peanuts
Preperation:
Cake:
Beat yolks until thick and lemon colored. Add sugar gradually, beating continuously.
Add dry ingredients, sifted together, alternately with boiling water.
Add vanilla and beat well.
Fold in stiffly beaten egg whites.
Bake 20 minutes at 350 degrees in shallow sheet cake pan.
Remove from oven and set until cool to touch. Cut into squares.
Frosting:
Cannabutter, gradually blend in sugar.
Cream until soft and smooth.
After spreading frosting on Blarney Stones, roll each Blarney Stone in crushed peanuts or sprinkle crushed peanuts over frosting.
YIELD: 6-9 squares.
It is March, and therefore, it is time for Blarney Stones. Basically, a Blarney Stone is a piece of sponge cake wrapped in butter and sugar and then rolled in salted peanuts. My guess would be that they are made to resemble stones which is representative of The Blarney Stone in Ireland.