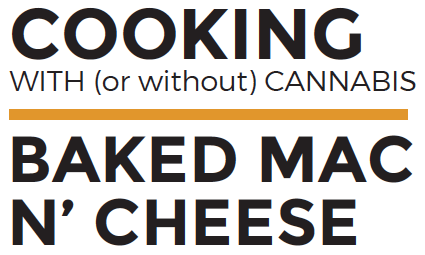 INGREDIENTS
1/2 pound elbow macaroni or shells
1 tablespoon canola oil
1 teaspoon salt
For cheese sauce
5 tablespoons cannabutter
1/2 cup all-purpose flour
2 1/2 to 3 cups milk, warm
4 ounces mozzarella, grated (1 cup)
8 ounces medium cheddar, grated (2 cups)
1 teaspoon salt
1 teaspoon smoked paprika
1/2 teaspoon freshly ground black pepper
1 cup breadcrumbs
1 tablespoon canola oil, (using canna-oil is optional)
2 ounces sharp cheddar, grated (1/2 cup)
PREPARATION
Heat oven to 375 degrees.
Fill a large pot with water, oil and salt. Bring to boil, add the macaroni and cook according to the directions on the package. Drain well.
In a small saucepan melt the cannabutter. Add the flour and cook, whisking constantly, for five minutes. Add the warm milk and cook for a minute or two more, until thickened and smooth. Add the cheese, salt, paprika, pepper and nutmeg. Add the cooked macaroni and stir well. Place mixture into glass baking dish.
In a small bowl combine the canola oil and sharp cheddar. Sprinkle on top of macaroni. Bake for 25-35 minutes or until the sauce is bubbly and the macaroni is browned on the top.
YIELD: Serves 4 to 6 people.