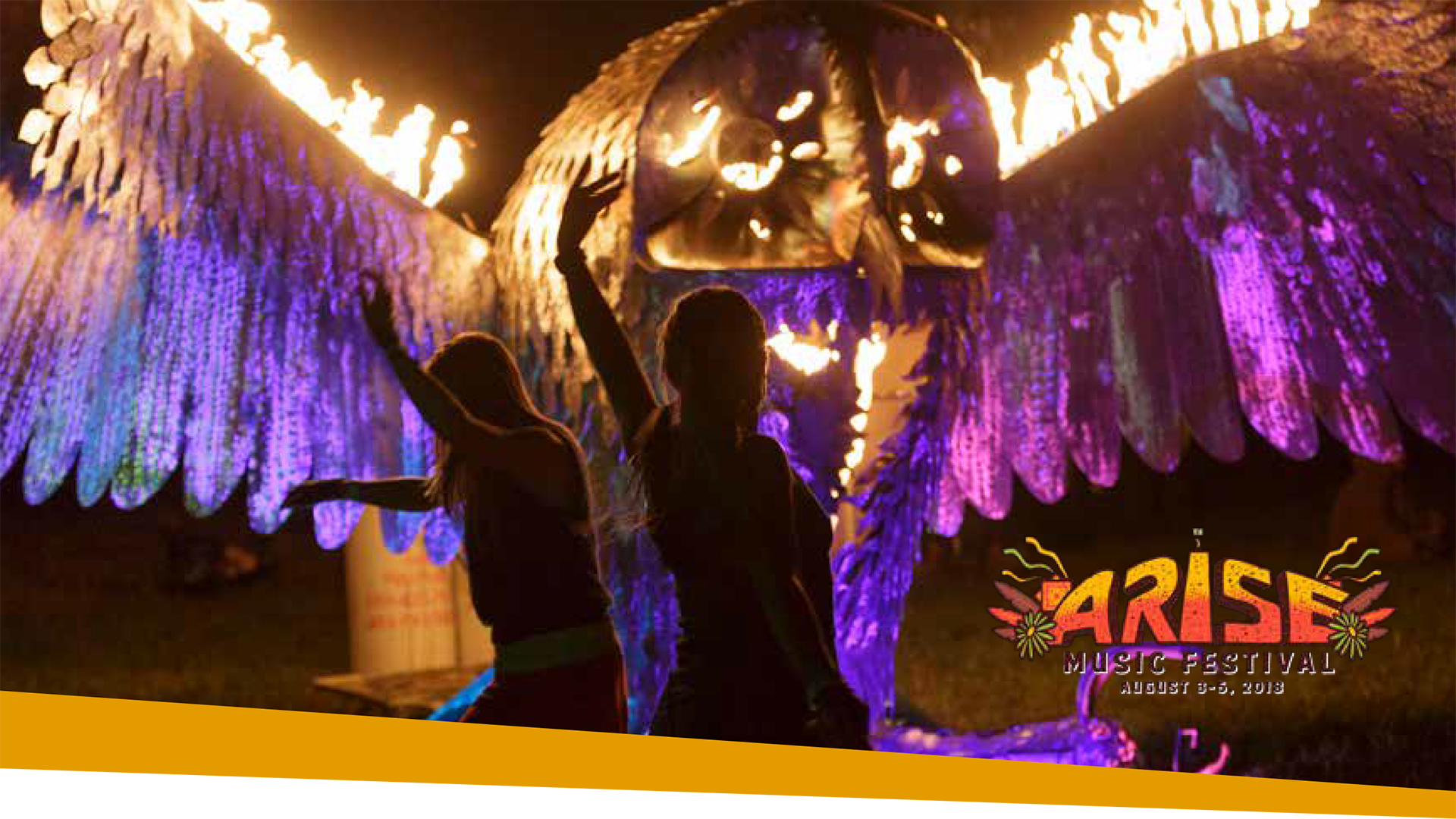 ARISE to the OCCASION
By: Jed Murphy
Are you ready for the 2018 ARISE Music Festival? As someone who has attended every year since it began, I can safely say that I am. Being a part of the festival for this long has given me a unique perspective of seeing all the changes it has gone through as it has gotten more and more popular.
For 2018, the ARISE crew are taking it to the next level with performances from legendary
acts like Thievery Corporation, Living Legends, Pepper, and Dynohunter just to name a few for their best festival yet.
Like every event of this size, it has gone through its share of ups and downs, but at this point the ARISE Music Festival has established itself as the pinnacle Colorado new age festival. They did this in a few simple ways; being very environmentally conscious, supplying the music Colorado's outdoor crowd wants to hear, and creating an atmosphere of togetherness that connects every attendee on a human level.
There are also all the unsaid things that have allowed ARISE to become more and more successful over the years and while that list is extensive, today we're talking a little about marijuana.
The main thing to know about ARISE and their stance on marijuana is it is a nonissue. ARISE is of course very pro marijuana as they are supported by several Colorado dispensaries and hemp companies, but they transcended the discussion because at ARISE it's all about maintaining a balance with mother earth. Being a plant with medicinal properties, ARISE security will not be forcing you to put out your joint or throw your weed away. By making marijuana a non-issue, this allows the organizers to focus their attention on maintaining the eco-friendly and safe environment ARISE has become known for. Instead of busting festival attendees for trivial things, security instead focuses on weeding out the harmful substances that can circulate a music festival, and frankly is a much better use of their time.
It's been a privilege to see how their environmental and 'leave no trace' ethos has grown over the years and they never had to sell themselves short. While other festivals of their size have raced to cash in on whatever corporate sponsorship they could find, ARISE maintains a strong practice of only allowing in local businesses that produce their goods using the most natural processes possible. In the beginning years of the festival, this seemed like a pipe dream as other festivals were going under who were bringing in much bigger numbers, but instead ARISE just keeps growing showing the power of a little togetherness.
One thing is for sure though, when the sun sets on the beautiful Sunrise Ranch that weekend, you can find me by the metal fire owl burning one down, probably a sativa.