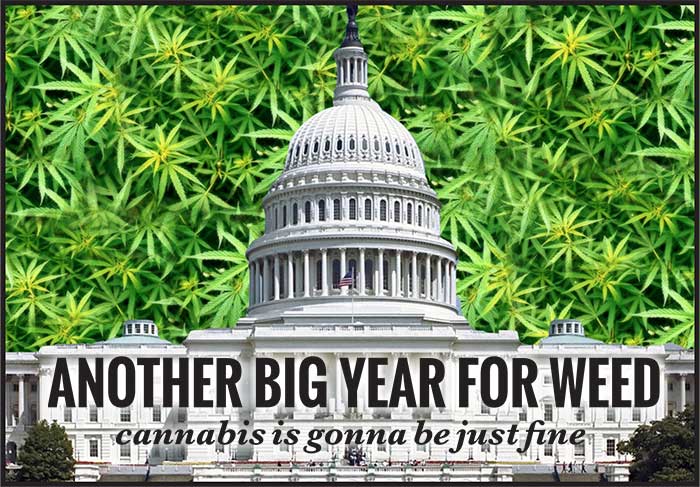 ANOTHER BIG YEAR FOR WEED
cannabis is gonna be just fine
Written By: Gazette Staff
Weed prevailed again this past year. 2018 began with the now former U.S. Attorney General Jeff Sessions trying to throw shade of uncertainty and fear over the cannabis industry and legalization advocates on January 4, when he formally quashed Obama-era guidelines protecting state marijuana laws. But as 2018 progressed, many more states continued to change their laws to allow legal recreational or medical cannabis use despite the conflict with federal laws. Efforts to end national prohibition in Congress picked up steam as well. And even several nations have moved to significantly overhaul their marijuana laws.
Lawmakers First Vote Towards Legalization
It didn't take long for pro-legalization forces to get a victory on the board after Session's anti-cannabis fit. Just hours later, on that same day, Vermont lawmakers voted to approve a marijuana legalization bill. Republican Gov. Phil Scott, went on to sign the legislation, which allows adults to grow and possess small amounts of cannabis but does not provide for a system of legal sales… yet. That made Vermont the first state in the nation to enact legalization by an act of lawmakers instead of through a ballot initiative.
Three Red States Go Green
Support for marijuana reform even transcended party lines, a political reality made clear by the fact that voters in Missouri, Oklahoma and Utah all overwhelmingly approved medical cannabis ballot measures this year while at the same time voting to elect Republicans to the U.S. Senate or nominate conservative candidates for statewide office. In Oklahoma, medical marijuana was on the primary election ballot—a situation legalization supporters have long sought to avoid because younger and more progressive voters who have been thought more likely to support cannabis reform don't show up as reliably in non-presidential elections. But the decisive win in the red state during an off-year primary shows that medical cannabis can pass almost anywhere any time it is put before voters, whether presidential years, primaries or midterms.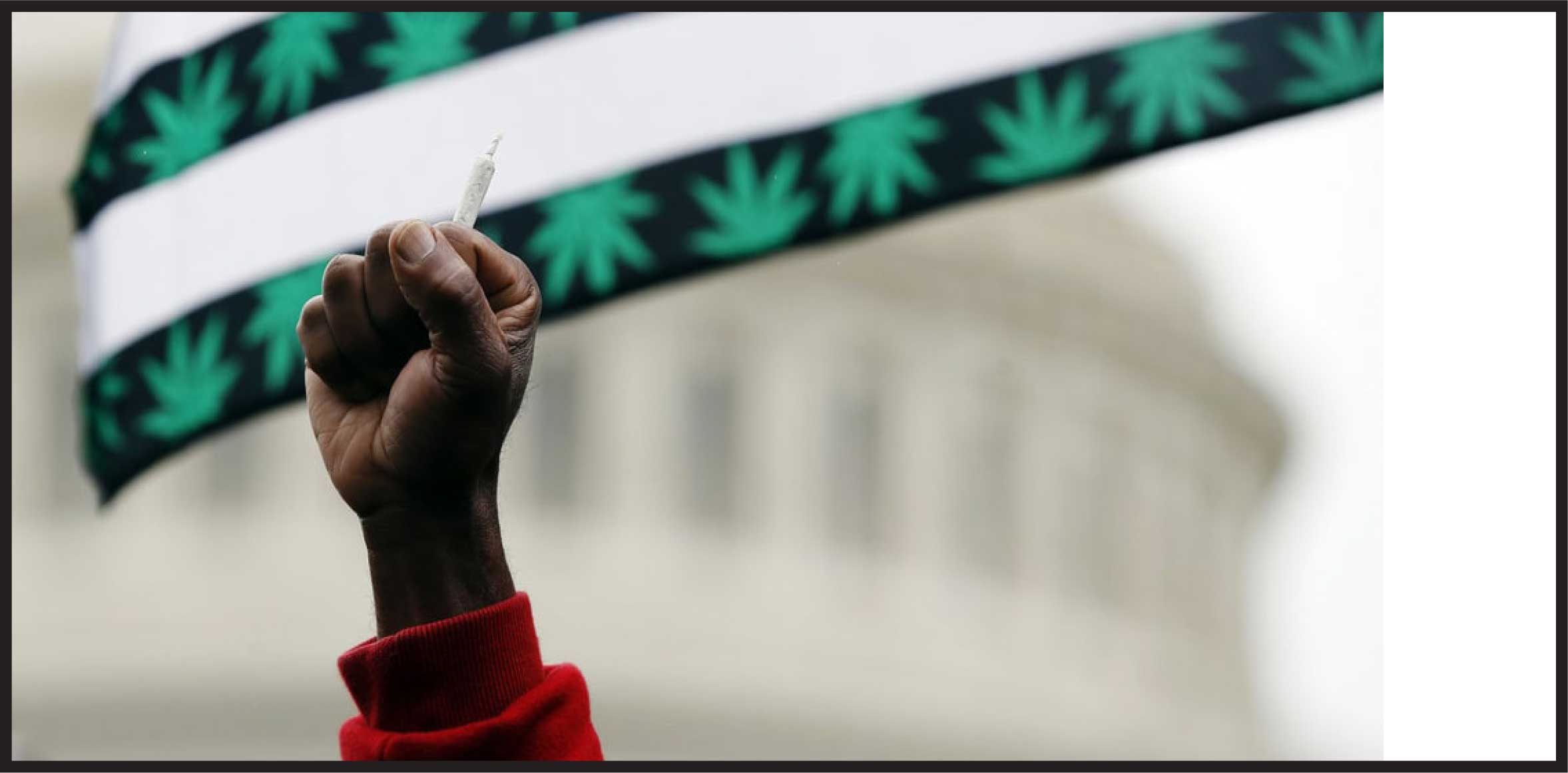 Midterms Save the Midwest
During last month's midterms, voters in Michigan strongly approved a ballot measure making their state the first in the Midwest to legalize adult-use marijuana. No longer relegated to the coasts, legal markets for recreational marijuana are now an emerging nationwide trend. Separately, while not nearly as far-reaching as ending prohibition and allowing legal sales, voters in five Ohio cities also approved local cannabis decriminalization ballot measures on Election Day, signaling that a regional Midwest movement for marijuana reform is on the rise.
Hooray for Hemp!
After decades of being tangled up in the prohibition of cannabis, marijuana's non-psychoactive cousin Hemp is finally looking to become a legal crop. Senate Majority Leader Mitch McConnell, certainly no fan of marijuana, nonetheless actively championed the legalization of hemp through this year's Farm Bill, going so far as to take the unusual step of naming himself to the conference committee charged with reconciling the Senate version, which had his hemp language in it, with the House version, which did not.
McConnell and other congressional leaders said recently that the negotiated bill that will be sent to President Trump's desk includes provisions to finally and officially remove the crop from the Controlled Substances Act.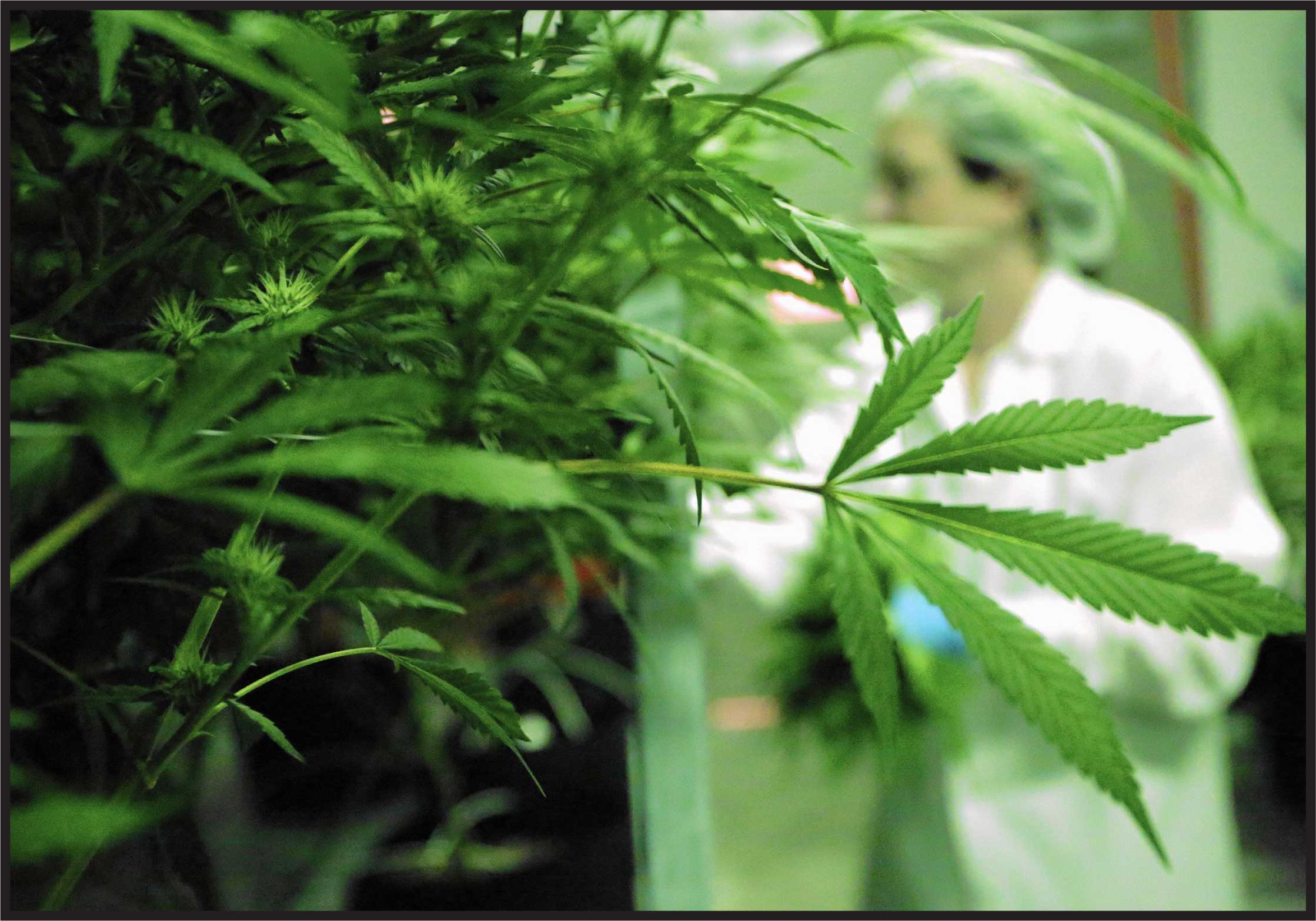 Canada Legalizes Marijuana
While Canada is the second nation in the world to end prohibition, it is the first major global economic player to do so. The move has spurred the creation and growth of several huge publicly traded cannabis companies.
As the Canadian system of legalization gets off the ground, it is likely to spur the U.S. and other nations to more seriously consider modernizing their approaches to marijuana.
Mexico Makes Moves
Speaking of legalization, the new administration of Mexican President Andrés Manuel López Obrador, who recently took office, is already making moves to end cannabis prohibition.
In late October, the nation's Supreme Court announced that the criminalization of using, possessing and growing personal amounts of marijuana as unconstitutional.
2019 Is Looking Good
Aside from the seeming inevitability that more states will legalize marijuana and federal reform efforts will progress in 2019, it's looking like there's a weed wave taking the nation by storm.
We can only expect that this means more big wins for marijuana reform in this upcoming year.