Let's get weird this month. If you're not a big Tool fan, you may not have heard of Maynard James Keenan's side project Puscifer, but their latest album Money Shot just came out at the end of October. Puscifer is a collaborative project with other musicians, but as the band doesn't have any permanent members other than Keenan, most people consider it his own solo project, or as he calls it, his "creative subconscious". This is where you get to see his really weird, experimental side which didn't quite fit with Tool or A Perfect Circle.
With album names like "V" is for Viagra, "C" is for (Please Insert Sophomoric Genitalia Reference HERE), and now Money Shot, you should have some kind of idea of what direction he takes his music when he isn't writing for Tool. But you'll still be surprised by some of his songs. The Mission "M is For Milla Mix" has been a favorite of mine for years and takes on a completely different tone. Plus you get to hear Milla Jovovich sing with Maynard James Keenan and it's even better than you'd expect. There's also a remix of Bohemian Rhapsody on the album Donkey Punch the Night which I never thought I'd hear from the man who brought us Undertow.
I should also tell you now, if you're expecting a clone of Tool, don't. You'll definitely spot some similarities between the two groups, but there's plenty of differences too. Most notably, in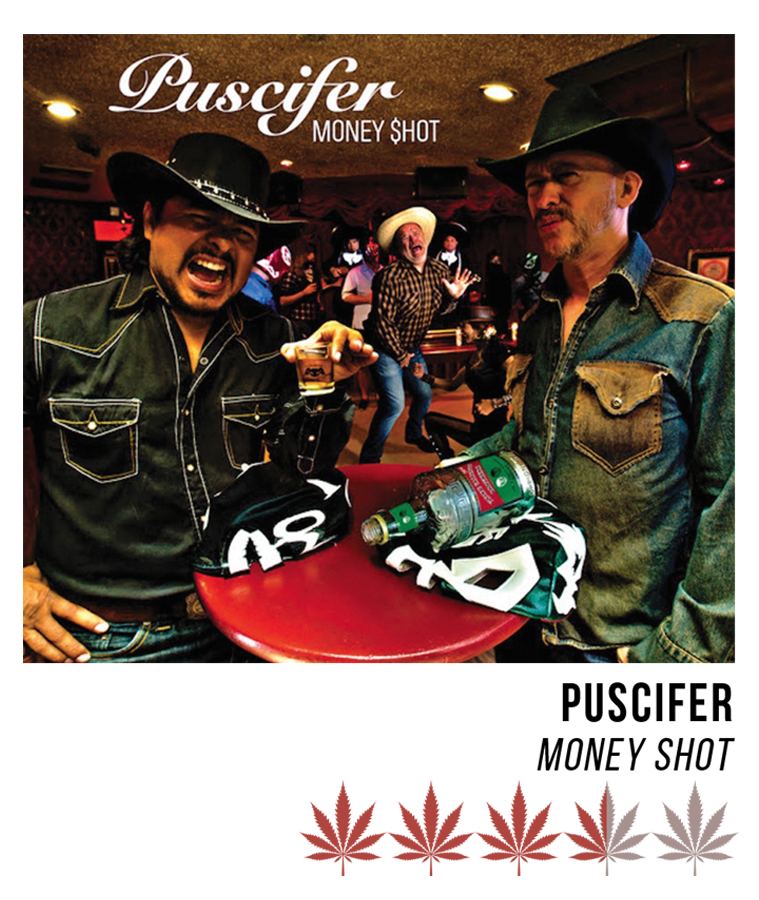 my opinion, is that Puscifer has a more electronic, trip-hoppy sound at times. If I'm being honest, it almost turned me off from the new album when I hit the song Grand Canyon because there was a little too much synth and auto tune for my taste, and then the next song Simultaneous left me wondering what was happening, but from that point on, the second half of the album steadily gets better and by the end, you'll definitely recognize Keenan's signature drone as it draws you in and entrances you.
Listening to this one high is… interesting. At moments you get this strange, foreboding feeling which I can only vaguely relate to the intro to Demon Days. Yet at other times you feel like you can almost see colorful patterns emerge from the notes of the song and vibrate the air, if only you could focus your eyes just right. I like to listen to this as lounging around music. Like most of Keenan's work, the emphasis is on the instrumentals more than the lyrics, just sit down, relax, and let it wash over you.
I'd definitely take the time to give this album a listen, especially if you're a fan of Tool or A Perfect Circle, just be ready for some more experimental sounds. Plus, the whole album is available on Spotify, so you don't even need to put the money down to pay for the album unless you really want to. I give it 3.5 stars and even though it's not my favorite Puscifer album, I still find myself listening to it fairly often.