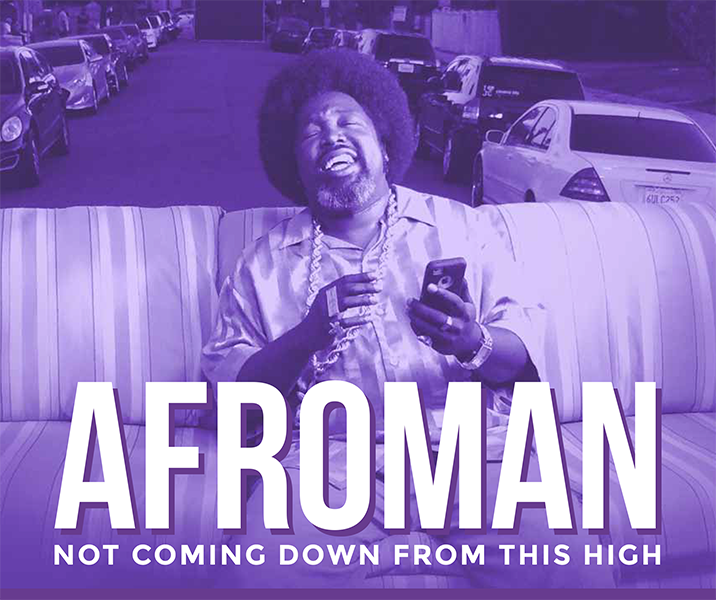 Afroman
Not Coming Down From This High
By: Steven Bonifazi
"Colorado; it's starting to become this traditional, annual thing. It really has that real positive spirit," says Joseph Foreman, regarding his favorite place to perform live on 4/20. "When I do 4/20 other places, if I don't get called by Colorado or some other place, it's weirder. It takes a lot to get high in state where it's not really legal. Not that many people come. For the most part, the overall Olympic arena is in Colorado so far for me."
From picking up and learning the guitar at age six to creating some of the most memorable hit stoner anthems such as "Crazy Rap" and the Grammy nominated "Because I Got High", Joseph Edgar Foreman, more familiarized by his stage title Afroman, is polishing himself back up and not coming down this time.
Foreman, 42 years old, of Palmdale, CA., a rapper and musician has had his ups and downs throughout the recent years. In 2014, Afroman released a positive remix of his hit track "Because I Got High" which focused on the benefits of the legalization of marijuana for the United States as a whole.
"How long can another state stand there and miss out on millions? America is based on greed; we're all about making money. They are sitting there watching those people make money and then the market is going to get flooded. It happens in every industry," said Afroman in regards to legalization of cannabis. "I remember not that long ago there wasn't that many porn stars. You could count porn stars on your hand. Then rappers, now everybody in the crowd is a rapper," said Afroman.
The 2014 positive remix of "Because I Got High" brought new spotlight to the rapper. However, after an incident involving a female fan in February of 2015, Afroman was arrested and faced probation. Nevertheless, a year later, Afroman has pulled himself up from his bootstraps, releasing both a 15 track album titled Happy to Be Alive and an EP titled Santa Cuz in 2016. "This time, I feel like I am high. To an outsider it can look like I'm having a low, but now on my way back up, I'm going to have another high and this high isn't going down no more," Afroman tells the Gazette.
For Afroman, this high will consists of marketing himself to the fullest extent as well as generating more tantalizing THC tunes. "I got a whole bunch of albums, some of them that I didn't keep up with in the early days. I'm reaching back in my past and I'm ready to present my whole catalog to my consumers,"
Furthermore, Afroman recently released a new single titled "Smoke a Blunt With You" featuring Snoop Dogg, from his upcoming album titled Cold Fro-T-Five, scheduled to release on April 20th, 2017. The malt liquor lover / beer drinking pothead pimp himself has also released his own beer called "Cold Fro T5" which is being promoted by his upcoming album, centered around "beer drinking and about having fun," said Afroman.
"Right now it is going to be available in Illinois and Missouri. I told them what I wanted, I told them my recipe, and they went and cooked it up. I don't think there is a beer can that looks better. I tried to make a classic can that will make you look good holding it," says Afroman.
Along with his very own beer, Afroman also has his own personal strains of weed called "Fro-G Kush" and "Blue Magic" which he prefers to smoke over others.
"I got them in California, I'm just working with people trying to figure out all the this and thats and everything. Those are my strains. Of Couse I like the Northern Lights and the White Widows you know, the mainstream brands. They come up with a different title every day," stated Afroman.
Afroman will be touring the United States for the next two months, making his way to Colorado to perform live just in time for 4/20. Fanatics and Afrodisiacs have the opportunity to come face-to-face with the rap icon himself at Natures Herbs & Wellness Center in Garden City where he will be having a meet and greet at 4:20p.m. on April 18th.
Later that day, Afroman will be performing at the Moxi Theater, located at 802 9th St, in Greeley, CO, doors at 7p.m.
For more information on all things Afroman, visit his Facebook page at facebook.com/ogafroman83