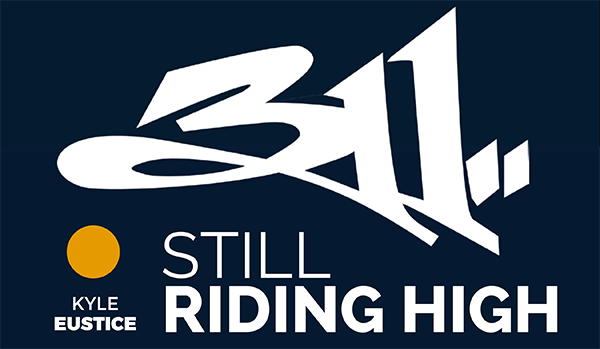 Still Riding High
311
By: Kyle Eustice
The members of 311 — Nick Hexum, Aaron "P-Nut" Wills, Doug "SA" Martinez, Chad Sexton and Tim Mahoney — are some of the most congenial "rockstars" anyone could meet. Raised in the Midwestern city of Omaha, Nebraska, where a sense of community is a high priority, they never morphed into artists with the giant egos that can often come along with the kind of monumental success they've attained over the past 27 years. Since day one, the Omaha music community has embraced the band. Now based in the greater Los Angeles area, the contrast between the two regions is even more apparent.
"There's a certain attitude that people have there," Hexum explains. "People are willing to work hard and it's a different attitude from people from the coast. We're kind of outliers here and we're known as fairly nice people to rock-and-roll business people."
Established in 1990, 311 has always been a "stoner-friendly" band. Albums like Grassroots and Music embraced their love of cannabis, which most of the members carry with them today. Hexum says the group's forthcoming album, Mosaic, is heavily influenced by cannabis.
"For the making of this new album, cannabis has really been a great part of my creativity and
just kinda what we do when we're together," he says. "It gets us in the mood to get us in the studio. To have a longevity like this, it has to be fun. And there's a lot of joking around and inside jokes. Cannabis is just part of it."
As the 311 community of die-hard fans has continued to evolve, 311's recent venture into the cannabis business was a natural step. They recently released a new vape called the Grassroots Uplifter 2.0, which makes the smoking experience not only more enjoyable, but also easier on the lungs.
"For me, I like vaping more than burning, and the guys in the band have really kind of switched to that just because of convenience and health reasons," Hexum admits. "We still do flowers and different concentrates now and then, but I really wanted to develop a better vape with a better look — a better taste — for just a really good experience. We've been working on the Grassroots Uplifter for a long time."
P-Nut is just happy they can find good, legal weed in California, unlike the dirt weed that was routinely available in his hometown. But it hasn't always been that easy.
"So much has changed," P-Nut says. "It's changed like the music industry has changed. I remember when I first moved out here, even before, in Omaha how scrounging and difficult it was to find anything quality, but even out here in LA, I would drive 90 miles a quarter ounce of good bud, and I'd be stoked about it. I could make it last a week or two if I was lucky. At the time, we were all living together, so we'd be rolling joints all the time. I think in the lean days, we made it last a long time and were real appreciative of the quality, and now I think everyone is totally spoiled. The good things is the prices are going down and the world of concentrate is the world that I'm in. I left flower alone probably four years ago."
As 311 prepares for a full schedule of summer touring, P-Nut has finally found his perfect smoking regimen and will likely carry it with him on the road.
"I usually do a sativa in the day, hybrid in the afternoon and indica at night," he says. "I've been following that routine. Back in the day, it was probably hybrids all the time."
Martinez, on the other hand, doesn't really partake much these days, but is totally cool with those who do.
"I get blazed so infrequently that when I do I am just so high," Martinez confesses. "We did a Cannabis Cup in Amsterdam, and by the time we stepped off the stage, we were beyond baked. I don't think I have been that baked ever. My eyes double glazed over.
"But we've captured that audience and it happened naturally," he adds. "People just resonated with the things we talked about in our songs. We're beyond happy with that."